Shagle Review In A Nutshell
In various Shagle dating site reviews, you can figure out that this is a chatting platform. It connects members from different countries, and they are able to have a conversation. It is primarily oriented on video communication, where members can enjoy each other, and speak about adult topics and even have virtual sex. There is also a possibility to chat via text messages. The website design is quite simple and convenient. Due to the number of available features, it is suitable for internet users of different ages. With filters, you are free to select countries from which you want to receive members to chat with. If you have some questions, a friendly customer support department is always ready to help.
Pros & Cons
Pros
A large number of active members from various countries;
Most of the members speak the English language;
The mobile web version has all the same features as the standard has;
It is available in several popular languages;
The translation tool helps to communicate with other members via text messages.
Cons
To use all the chatting features, you need to upgrade membership status;
There is no possibility to browse online members or a search tool;
To communicate with other members, you only have the text and video chats;
It has a small number of gender filters;
It does not have a separate mobile application to download.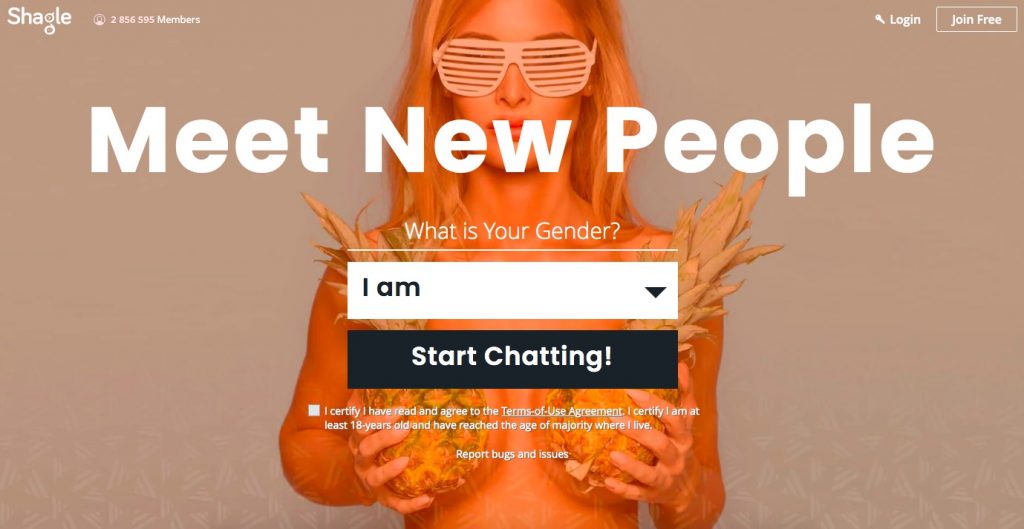 Shagle.com Review At A Glance
Famous for: the possibility to communicate and have virtual sex relationships with members from various countries.
Recommended age: this sex dating app is suitable for people from 18 years. With plenty of members, it is easy to encounter wonderful partners of different ages.
Popular features: text chat is suitable for communication with text messages. Video chat is better when you want to see a person you are talking to.
What Is Shagle.com?
Shagle is a wonderful place where internet users are able to communicate. This nice service connects people from different countries. With the possibilities to have text and video chats, members of Shagle.com are able to spend time with great pleasure. The website design is simple and convenient, which makes it easy to use for different age categories of visitors.
How Does Shagle Work?
In the beginning, you join Shagle.com. Then, you may select what gender and countries you are interested in. With the help of those filters, the system selects random members according to your preferences and initiate chat session with you. Thus, you communicate with amazing people from all over the world on various topics.
Registration Process
The registration process here is fast and simple. It offers possibilities to join with Gmail and Facebook accounts. Alternatively, there is a standard email option, which also requires to create a password. It is necessary to mention that registration is free of charge. After clicking the Join button, you become a member of Shagle. You may need to accomplish an email verification. When it is done, you are able to do a personal review of Shagle. On the profile page, you are able to make the online sex chat experience more wonderful by improving personal preferences. With the help of gender, country, and chat type filters, it is easier to get what you like.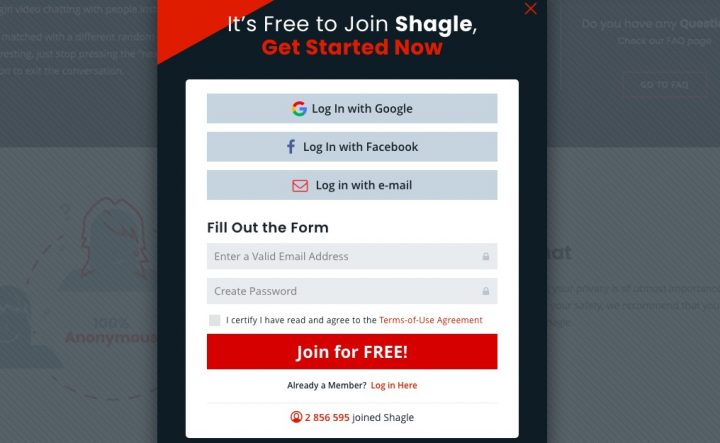 Search & Profile Quality
In various Shagle.com reviews, you can find out that this service is a bit different. It is primarily oriented on connecting random members to have some fun. Thus, a lot of members prefer to be connected to a wonderful person to have some virtual sex. Most visitors in this service hope to spend time and receive sexual satisfaction. Among the possibilities to search, Shagle offers several filters.
One of them allows members to select men, women, or couples to have an online sex experience.
Another is about preferable countries. If you like Asians and Latins, you just select countries you like. Then you will be connected to members from them.
The last one is about the chat type. It can be just text chatting or via webcam. Most members prefer webcams as it allows them to have sex online.
Speaking about profile quality, it is less impressive. As it has several filters, on the personal pages, you find preferences and some photos. Thus, personal information is not required, which makes it properly protected.
Is Shagle Safe?
Shagle.com cares about the safety of its members. Thus, all the information you provide is protected with an SSL encryption protocol. Moreover, you do not have to provide personal information to use this website.
Help & Support
When you are new to some service, it is important to have the possibility to find helpful information. Shagle.com offers several ways to receive assistance. When you need some instructions and answers, there is a FAQ section. It contains all the important information with the most frequent requests. In case you would like to receive more help, you can get in touch with the customer support departments. You may send them your request anytime.

Prices
The truth about Shagle is that it is a partially free service. You may visit the website and join the service. Then, there is a possibility to try text and video chats. However, if you want to be able to use all the website features of this sex chat platform, you need to get a premium membership. It grants you plenty of various features, including selecting preferable countries, removing of annoying advertisements, and 24/7 customer support. In addition, you receive a VIP status badge that proves your identity. It is easy to make a purchase, as Segpay process transactions. Shagle accepts all the common credit cards. Among options, you can get a monthly or weekly plan. The first one has a better price.
To Sum Up
Shagle.com is a wonderful place when you spend time with pleasure in conversation with a nice person. This service is more oriented on providing the possibility to have virtual sex, flirting, and interaction. The main feature is to be connected with random members from the countries you like. In case you prefer strong and full of love relationships, you have the possibilities to achieve that.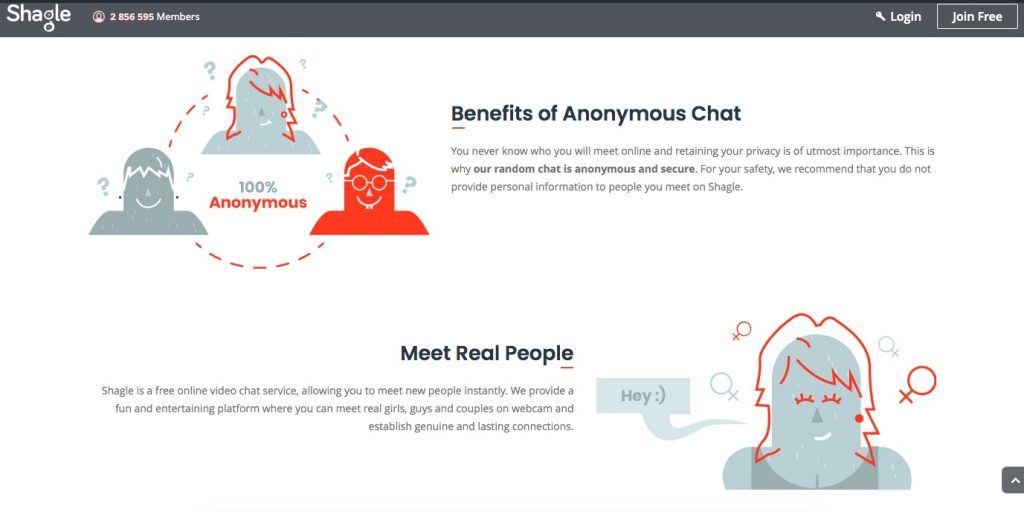 FAQ
Is It Possible To Log In To Shagle Using Other Accounts?
For an online chatting service, it is important to be convenient. Thus, you are able to use accounts of Facebook and Gmail at Shagle log in section. It allows members to quickly sing in their accounts. Moreover, if you want to save time on the registration process, you also can use accounts of other services. You can be sure to receive all the important notifications and information in messages.
Is Shagle.com Legit?
Shagle.com is a platform where people communicate with each other. Members decided by themselves whether to turn on the camera and microphone or not. Shagle helps users to interact with each other. It exists for many years in the online dating and sex chat industry. An officially registered company operates it, the physical address of which you can find in Terms of Use document. Therefore, it is a legitimate online chatting service.
How To Use Shagle.com?
After the registration, there are various options that you can do. One of them is text chatting. It allows you to have wonderful conversation s with other members. By selecting countries, you have more chances to encounter a member who matches your tastes and preferences. If you have confidence, there is a video chat. It is a nice option if you prefer to see the person you are talking to, and it helps to flirt and even have video sex.
Is Shagle Good At Developing Strong Romantic Relationships?
The main task of the Shagle dating site is to connect people. To help to make the first step and to approach a woman or man, this service encourages members. It starts a conversation between two random members from different countries. With communication, it is possible to develop strong feelings and fall in love. Shagle is good at connecting people to have virtual sex and to date online.
Does Shagle Have A Mobile Application?
Shagle.com is accessible from smartphones. You may simply visit the website in the mobile browser. It has all the same features as the standard option has. Moreover, it is very simple to navigate and do what you want—such an alternative to applying a nice option to smartphones. The web version helps to save the free memory on the device. In addition, all your personal data remains safe.
Can Shagle Connect Me To People From A Specific Country?
After joining Shagle.com, you are able to select what countries you are interested in. Then, services connect you with a random person from the selected destinations. In case there are no online members from preferable countries, Shagle.com will connect you to a person from any other country. Thus, you are able to create a list of countries you like and to communicate with members from them.